We area a few weeks into this new year (time just goes so fast!) and I am feeling good about what I have been up to. I feel clear, focused and intentional. I am having wonderful conversations with people that I love and I am doing some of my best coaching right now - my clients are amazing! I also have been pushing myself outside of my comfort zone and playing with video, mainly on Facebook using their Live tool. I notice I still talk a lot with my hands and I still say "like" a lot, but I am happy to be making progress. 
This week I have been reflecting on resolutions and how the majority of people have already given up on them. In my opinion, there are a ton of reasons why that is the case - not a strong enough why tied to what you are doing, realistic timelines, trying to do it alone, not preparing properly or being able to plan for when you know you will go off the rails, etc. - but the biggest reason is the focus on the outcome instead of the process. Some people call this enjoying the journey. I call it - building healthy habits. 
I heard/read somewhere that it is easier to build a new habit than to stop an old habit. I have been thinking about this concept so much, especially since I have been working on creating new habits. This seems to be true - being able to create a new habit requires you to believe that you are capable of doing this new thing, which in turn helps to build your belief in your identity including this new thing. Once you can see yourself as a person that does 'x', then it is easier to incorporate it as a part of your lifestyle. This is about consistency! The more that you do it, the more that you start to become unconsciously competent - that is that you are on autopilot. Hopefully, with it becoming your identity and easier to do, you can push out the bad habits. 
The thing is, that the start of building a new habit can be so difficult. You have to fight every day to make sure that you are continuing to build. FIGHT! The one day that you give into the temptation that you can skip it because (insert your cause here), you give yourself the out to stop, and most of us will.
I began to support my visioning - which means I wrote a vision for where I want to be at the end of the year and I say it out loud (about 3-4 minutes) when I get up and when I go to bed. The morning isn't as hard because I am my best in the morning. It's before I go to bed. I just want to go to bed. And each night for the past few weeks I have had to fight to say my story out loud because I just want to do my night routine and get to sleep (I hear you all mommas - having a kid that wakes up early is no joke). I know that if I don't do it one night, I will stop doing it altogether. #thestruggleisreal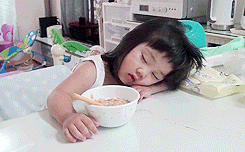 So what do I do? I put reminders in my task planner, recurring for every day, twice a day, so that I can check it off (yay progress!). I also have accountability partners that I have to report to, which helps me to stay focused.
Any time you set a goal, make sure that it is specific, measurable, attainable, relevant and timely (SMART) and then break it down into the smaller tasks that can become your new habits. What are the things that you need to do every day/week/month/quarter/year that will help you stay on track to achieve your goals? Regardless if you actually attain your goal(s), by following the implementation of healthy habits, you will have made so much progress towards your goal, it will only be a matter of time before you hit it. 
Grow you first. Pay attention to how you show up in life. Healthy habits force you to be better. I challenge you to look at something you want to achieve this year, and break down how you will achieve it, so that you have a list of the healthy habits you need to focus on. You need to focus on how you are going to stay accountable in the beginning, but hopefully somewhere between day 21-30 you have developed a new habit that is becoming second nature. 
Good luck with the goal getting. What do you do to stay on track?
Please reload